About Us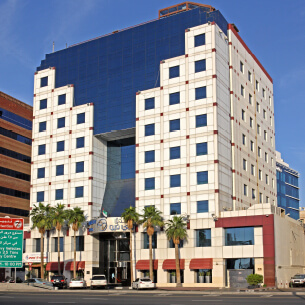 Sea View Hotel is a typical city centre hotel, with all its facilities located in the hotel building. It offers guests a choice of 107 elegant guest rooms and suites spread on seven floors with modern up-to-date amenities.
This four star Sea View Hotel caters the need in general, demanded by both business and leisure traveler. Guests at the hotel can choose from a variety of spacious rooms and suites. Exclusive non-smoking rooms are also available, as is an executive floor.
Sea View Hotel is located in Bur Dubai opposite to Dubai Customs building. Its central location means it's just minutes away from many of the city's superb shopping and entertainment destinations. From glitzy malls to bargain souqs, Dubai's shopping scene is by far the most happening in this part of the world. Desert safaris, a buzzing night-life and other entertainment abound for the entire family.
Khamas Hospitality
A boom in hospitality sector is a boom in the tourism industry. For its part, Khamas Group has utilized its management prowess in the promotion of the local tourism industry, by maintaining spa and wellness centers, entertainment holes, and restaurants.
Restaurants. Guests will enjoy the local cuisines, caviar and wine as they relax with live entertainment and cozy ambiance at these finest restaurants: Spa & Wellness. The Chill Spa contributes greatly for the Royal Ascot Hotel, where it is located. Its services enhance the emotional & physical confidence of hotel's guests instead of looking out for similar amenities. Nightlife. Explore the cosmopolitan nightlife in the passionate city at these bars and pub houses: